Barry Monies Releasing Ground Breaking Book "Surviving & Thriving: Bitcoin, Blockchain & The Metaverse"
Stamford, CT – Barry Monies, a financial expert and business analyst, has announced the launch of his new book, Surviving & Thriving: Bitcoin, Blockchain & The Metaverse. The new publication adds to the many publications released by the author, who aims to lower the entry barrier into the cryptocurrency world. With the latest book, readers will get all of the information they need to know about Bitcoin, Blockchain, and the Metaverse.
Announcing the book, Barry Monies said: "Discover how to overcome the common entry barriers and put yourself in a position to prosper in this investment goldmine." He noted that the book has been put together for people who are fascinated and inspired by Bitcoin's success stories and want to invest in the space with hopes of amassing the same fortune as those who have done it before them.
The book sets readers on the same path as top Bitcoin investors, including Erik Finman, who bought about $1,000 worth of bitcoin at the age of 12 and turned this investment into a whopping $1 million at the age of 18 and Jeremy Gardner, a businessman who became a self-made millionaire by investing in the same digital currency. Readers will learn more about how these and many more people found Bitcoin and other digital assets, how they invested in crypto vehicles and what set them apart from others, putting them in the front wheel of fortune through the digital assets scheme.

Admitting to the two sides of the coin, Barry Moines noted that his book is the Best Crypto Book For Beginners because it touches on both the good and bad, offering information to readers on how to succeed and what sets them apart from those that have failed in the past.
In the Crypto Book description, the author said: "In this beginner-friendly guide, you will gain the proper groundwork for effective decision-making so you can take advantage of the best growth opportunities. This way, you won't have to depend on speculative gambling, which can make you lose all your money in seconds."
The crypto book covers everything a beginner may need to know, including topics like; How bitcoin works and why it's the future of finance, Why central banks and corporations have no control over bitcoin — and how you can benefit from this fact, How to use the best trading tools to run your crypto investments without a hassle, What blockchain technology is — and 3 major ways you can benefit from it in real-time, and much more.
Surviving & Thriving is available for purchase on Amazon. Interested buyers can buy their copies fast before it sells out. For more information, the Surviving & Thriving team can be reached at 970 Summer St, Stamford, Connecticut, 06905, United States.
Media Contact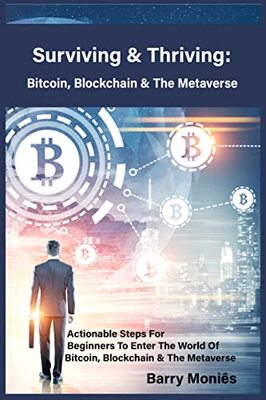 Company Name
Surviving & Thriving
Contact Name
Surviving & Thriving
Address
970 Summer St
City
Stamford
State
Connecticut
Postal Code
06905
Country
United States
Website
https://www.amazon.com/gp/product/B0BJJNNM8N/ref=dbs_a_def_rwt_hsch_vapi_tkin_p1_i0
About Post Author