Dive into Luxury: Alderland – SF Bay Area Pool & Landscape Co, The Premier Swimming Pool Construction Company in Contra Costa County
As properties throughout the San Francisco Bay Area continue to embrace the allure of poolside oasis, Alderland – SF Bay Area Pool & Landscape Co emerges as the premier destination for those seeking to elevate their outdoor spaces. Recognizing the transformative power of a well-designed pool and landscape, the swimming pool construction company brings forth a comprehensive range of services that captivate the imagination and enhance the allure of any property.
For homeowners seeking to enhance their outdoor spaces with timeless elegance through a complete or partial landscape project, the Contra Costa County swimming pool construction company presents an impressive selection of rectangle pools and spas. Demonstrating meticulous attention to design and an unwavering commitment to excellence, the company ensures that each pool or spa is thoughtfully positioned to harmonize seamlessly with the surrounding landscape. Whether the goal is to transform a blank canvas into a serene sanctuary or to establish a seamless connection between indoor and outdoor spaces, these captivating rectangle pools and spas offer enduring solutions built to withstand the test of time.
The inclusion of auto covers in the design of the rectangle pools and spas brings both aesthetic and practical benefits. By incorporating these covers, homeowners can have peace of mind, knowing that their pool remains secure and well-maintained. 
Furthermore, the company enhances the appeal of its rectangle pools and spas by incorporating captivating water features. Carefully selected elements such as cascading waterfalls, spillover spas, and fountain jets can be integrated, adding an extra touch of elegance and serenity to the poolside. These water features contribute to a soothing and dynamic ambiance, transforming each pool experience into an enchanting journey of relaxation and rejuvenation.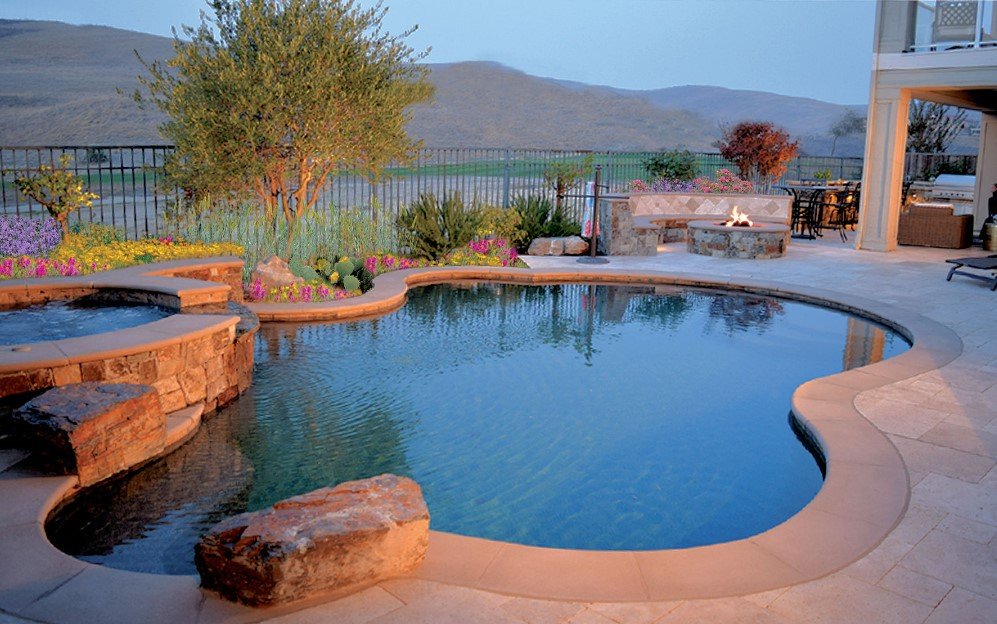 In addition, Alderland – SF Bay Area Pool & Landscape Co's portfolio also includes infinity edge pools. These pools create a visually striking illusion of an endless expanse, making them ideal focal points for properties. With their sleek and contemporary appeal, the infinity edge pools effortlessly complement modern designs, providing a serene and relaxing oasis.
Alderland – SF Bay Area Pool & Landscape Co not only specializes in swimming pool construction but also offers complete swimming pool and landscape architectural designs. From contemporary marvels that exude modern elegance to natural layouts that seamlessly blend with their surroundings, the company's vision and craftsmanship are unmatched. Their creative prowess extends to every element, including meticulously designed swimming pools, plantings, pavilions, BBQ areas, fire elements, retaining walls, various types of patios, and even synthetic lawns. Throughout the entire design process, from conception to construction, the team works closely with clients, ensuring a collaborative and personalized approach to bring their visions to life.
Speaking about the company's services, a happy client said, "This team is second to none! We contracted Alderland – SF Bay Area Pool & Landscape Co for a complete package, from design through construction, for a complete remodel of our backyard; landscape, pool, pavers lighting, and drainage. This team is respectful, easy to work with, and very experienced. I highly recommend Alderland – SF Bay Area Pool & Landscape Co for your next project. We love our new yard!"
The top swimming pool construction company in Walnut Creek, California prioritizes delivering effective results by working exclusively with one contractor. This approach ensures streamlined communication, seamless coordination, and a high level of expertise throughout the entire construction process.
Contact Alderland – SF Bay Area Pool & Landscape Co at (925) 933-3848. The company is located at 1261 Locust St #264, Walnut Creek, CA, 94596, US. 
Media Contact

Company Name
Alderland – SF Bay Area Pool & Landscape Co
Contact Name
Don Vivatson
Phone
(925) 933-3848
Address
1261 Locust St #264
City
Walnut Creek
State
CA
Postal Code
94596
Country
United States
Website
https://www.alderland.com/
About Post Author