Four Points Wealth Management Re-Imagines Wealth Management to Fit the Needs of the Next Generation of Wealth Creators
Four Points Wealth Management provides holistic financial planning and investment management to high achieving professionals who love to work and play hard. Whether their clients are early in their financial journey, building a business, or planning for retirement, the firm tailors wealth management solutions to match their clients' lifestyle and goals.
The financial planning side of the firm focuses on investing, retirement, tax, and risk management using a tried and true system. For investment management, Four Points Wealth Management ties their client's goals to goals based investment philosophy. 
Four Points Wealth Management bucks the traditional wealth management structure for a modern approach that aligns with the busy professional's pursuit to live in abundance, growth, prosperity, and vitality.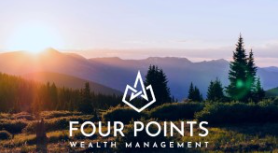 It's no secret that the financial advisor community is getting older and many firms still use an archaic business model that only serves a small minority of investors. Taylor Leary, Founder of Four Points Wealth, created a business that offers much needed financial advice and investment services to a burgeoning group of younger high achieving professionals.
By catering to this demographic, Four Points Wealth allows their clients to catapult themselves to higher levels of wealth and prosperity. They've created two distinct ways for clients to work with them, Financial Planning and Investment Management. 
Clients can hire the firm for both financial planning and investment management services, or they can choose to engage in either service individually. Most clients have the best financial outcomes when they use both the financial planning and investment management services.
5-Star Testimonials Include:
"Taylor works with me with my longer term financial goal always in mind. He is my levelheaded advisor who brings the focus back to the strategic financial goal. He welcomes ideas, questions and is open to new thoughts. Wealth management can be a very emotional business, but with Taylor on my side. I'm in good hands."
"Working with Taylor at Four Points Wealth is great. We worked together to develop a strategy, and he took care of the details to meet the strategy. He is personable, professional and listens to my needs and goals. My expectations are always met, and financial goals exceeded. I am very pleased!"
"Taylor is a top notch investment advisor. He keeps us informed about our investment strategy and options for meeting our goals. He is very intelligent, friendly and a pleasure to work with. Best of all he's a CU Buff."
About Four Points Wealth Management
Four Points Wealth Management is a Colorado based wealth management firm with a core base of clients who are high achieving business professionals between the ages of 35 – 50 years old including entrepreneurs, top 1% sales reps, executives, decision makers, and industry leaders. 
Most of their client's love to live a life of adventure and hold family values and healthy living close to their hearts. The firm incorporates financial planning and investment management using the principles of Mindful Wealth, a unique approach to wealth creation which focuses on what's most important to an individual and what fills their soul.
About Taylor Leary
Raised in the small mountain town of Steamboat Springs, CO, Four Points Wealth Management's founder, Taylor Leary, is a Certified Financial Planning Professional®. Taylor truly understands and values trusted, long-term relationships. During his career in wealth management, he has observed the perils of putting profits over people and misaligned cultures. 
When he founded Four Points Wealth Management, Taylor elevated the wealth management industry by always putting clients' interests first and cultivating a culture of sound values and principles.
According to Taylor, "The best financial outcomes start with aligning your values with your goals with your financial strategy, and finish with solid execution and implementation."
Media Contact
Company Name
Four Points Wealth Management
Contact Name
Taylor Leary
Phone
(303) 910-9751
City
Greenwood Village
State
CO
Country
United States
Website
https://fourpointswealth.com/
About Post Author