New York Legacy Lawyer Yana Feldman Discusses the Three Fundamentals of Estate Planning in NY
New York Legacy Lawyer Yana Feldman (https://yanafeldmanlaw.com/three-fundamentals-of-estate-planning-in-ny/) of New York Legacy Lawyers has released an informative article outlining the three fundamental components of estate planning in the state of New York. The article provides readers with valuable information on drafting a last will and testament, planning for guardianship, and establishing a trust as key elements in creating an effective estate plan.
As an experienced attorney in the field of estate planning, The New York Legacy Lawyer understands the importance of having a proper plan in place. "Estate planning is essential for ensuring that your wishes are carried out after your passing and that your loved ones are taken care of," said Feldman. "Having a comprehensive plan in place can help minimize stress and confusion for your family during an already difficult time."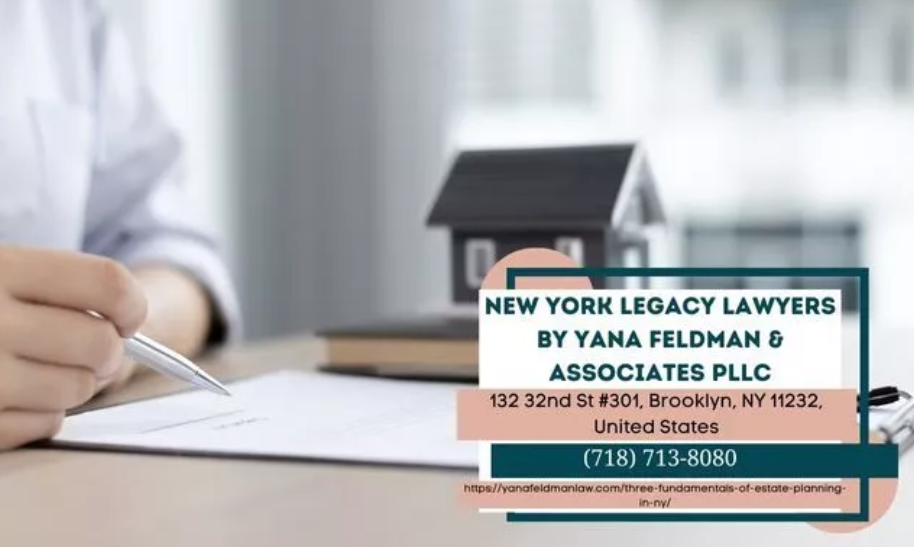 The New York Legacy Lawyer highlights the importance of drafting a last will and testament, which provides instructions on how an individual's estate should be handled after their passing. According to Feldman, "A will is an important document that can ease the transfer of property and assets, minimize tax burdens for heirs, and ensure that your final wishes are honored."
The article also emphasizes the need for guardianship planning if both parents are deceased or unable to care for minor children. "Designating a guardian in your estate plan can give you peace of mind knowing that your children will be taken care of by someone you trust," said Feldman.
The article encourages individuals to consider establishing a trust as part of their estate plan. "Trusts can be a powerful tool for managing and distributing assets," explained Feldman. "By creating a separate legal entity, you can provide for your loved ones while also minimizing tax liabilities and avoiding probate."
Yana Feldman reminds readers that estate planning is a complex process that requires the guidance of an experienced attorney. "Each person's situation is unique, and a qualified estate planning attorney can help you develop a plan that is tailored to your needs and goals," said Feldman.
Estate planning law involves the drafting of wills, trusts, guardianships, and other legal documents that facilitate the transfer and management of the property after death. Without a proper estate plan, the distribution of a loved one's assets can often become complicated.
the article from New York Legacy Lawyer Yana Feldman serves as a valuable resource for anyone looking to create an effective estate plan in the state of New York. With her experience, Feldman can provide readers with valuable insights and guidance on the key components of estate planning. Anyone looking to create an estate plan should consider seeking the guidance of a qualified attorney like Yana Feldman to ensure that their wishes are properly documented and honored.
About New York Legacy Lawyers:
New York Legacy Lawyers is an estate planning law firm founded by Yana Feldman. The firm is dedicated to providing clients with effective and personalized legal solutions in the areas of estate planning, probate, and trust administration. With years of experience, New York Legacy Lawyers is committed to helping clients protect their assets and ensure their wishes are fulfilled after their passing.
Media Contact

Company Name
New York Legacy Lawyers by Yana Feldman & Associates PLLC
Contact Name
Yana Feldman
Phone
(718) 713-8080
Address
132 32nd St
City
Brooklyn
State
New York
Postal Code
11232
Country
United States
Website
https://yanafeldmanlaw.com/
About Post Author