XULON PRESS Publishes "The Memorial of Catherine Stewart" by Jy'Quan Arnay Stewart
Troy, NY – XULON PRESS has announced the publication of a biography, "The Memorial of Catherine Stewart." The biography, unfolding the life, times, and legacy of Catherine Stewart, was written by her grandson, Jy'Quan Arnay Stewart.
Announcing the publication, the printing and publishing press said: "The memorial of Catherine Stewart is a personal memoir published by Xulon Press about the legacy of Catherine Stewart and how her life influenced her grandson Jy'Quan Stewart to leave an example of what Godliness is and why we should leave a Godly Legacy. We live in a generation where preachers and deacons claim to be men and women of God. They live and act just like the world and do not know what it means to be born again. Every born-again believer is called to fight the good fight of faith and run the race. Before Catherine died, she passed the baton on to Jy'Quan now he had to finish well, fighting for the faith. Have You Finished Your Course?"
Sold on Barnes & Nobles, Amazon, and more, the biography explores the life of Catherine Stewart, who was born on April 5, 1947, in Kinston, North Carolina. Having grown up in a low-income family where her father left at a very young age, she moved to Upstate New York in her late 20s, where she got married to Willie Stewart of Macon, Georgia. Catherine Worked as a certified Nurse Assistant and her husband as a college professor in the Military.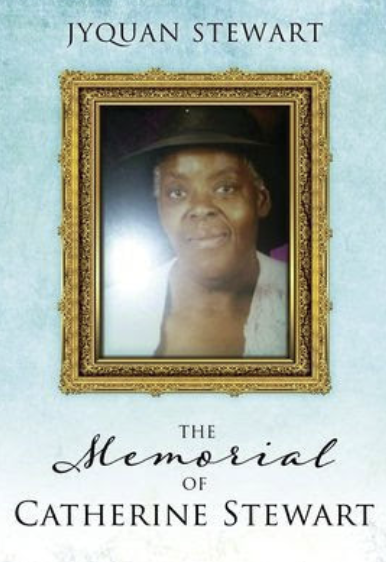 Catherine was saved one night by the Holy Ghost in one of the teachings of Pastor Chapman, a woman from Los Angeles, California. On that night of the powerful conviction, she had her Bible opened and cried out to the Lord and said "I don't wanna go to hell and be damned for eternity I want to go to heaven." She became a devoted Christian and attended Apostolic House Church, called The Church of Jesus Christ Light Of The World.
The author of The Memorial of Catherine Stewart, Jy'Quan Arnay Stewart, said: "Catherine Stewart was my grandmother. She played a role in my conversion when I was a young kid. She told me about Jesus Christ. I was convicted on my bed that night and asked God to save me. I was a "New Creature" in Christ. I know what I want to be when I get older "The man of God." My grandmother played a big impact on my life. In her last days, she was diagnosed with Alzheimer's. Catherine Stewart finished her course on October 22, 2015."
Individuals wanting to learn more about fighting the good fight of faith can purchase "The Memorial of Catherine Stewart," drawing inspiration from Catherine's life and legacy. This biography is available for purchase on various platforms, including Barnes & Noble and Amazon. Contact XULON PRESS at 518-776-7904 for more information or visit them at 399 5th Ave, Troy, New York 12182, United States.
Media Contact

Company Name
XULON PRESS
Contact Name
Jy'Quan Arnay Stewart
Phone
518-776-7904
Address
399 5th Ave
City
Troy
State
New York
Postal Code
12182
Country
United States
Website
https://www.xulonpress.com/
About Post Author